Tom Winship of The Boston Globe
---
By Tom Oliphant The Boston Globe
Please travel back in time with me across a generation of America's racial divide. 1974 was any city's worst nightmare and any editor's greatest challenge. When a police-led motorcade of yellow school buses with a precious cargo of African-American kids chugged up the hill past a mob of angry white people into South Boston 27 years ago to begin the ugliest court ordered desegregation of a northern school system, the city wasn't close to ready.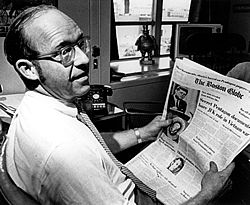 But Tom Winship was. Not merely to manage, but to lead -- a newspaper as well as a city.
While the worst racial turmoil in more than a decade flared and politicians from city hall to the White House ran for cover or poured gasoline on the flames, Tom Winship put The Boston Globe literally in the line of fire with nothing more than the highest of journalistic values as the arrows in his quiver.
One enduring symbol of his leadership were the bullets fired into our building on two occasions by nightriders. The other is the Pulitzer Committee's gold medal.
Leadership is often confused with management. Never by Tom Winship.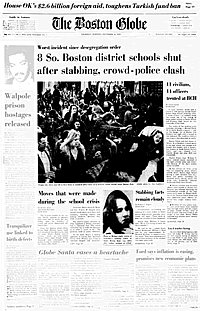 Of course he was prepared. Months ahead of time, he had recruited one of the best managers ever, Bob Phelps from The New York Times to supervise the coverage. People were dispatched all over the country to learn what the experience of desegregation was actually like for a community and a newspaper. He created a three-person desk to operate his coverage around the clock for a year and make sure that everything from the street, from the courts, the government and the schools themselves was part of one picture -- not a story divided by departmental convenience.
A staff of more than 50 people, some of us already wasted by Watergate, was mobilized and organized for duty on a multi-angled story that would break in the middle of the pivotal post-Watergate political year. And when we thought we were winding down, he made us all assemble an encyclopedic reconstruction of that first year -- more than 150,000 words that dug out all the stories we'd missed the first time around.
Winship would not pull a single editorial punch in cajoling a community to face its darkest angels and be better. Managers control, leaders build and accomplish.
As one of those three people, what I still remember is not Tom's preparation, but his presence. Leadership is not professional. It's personal. A great editor is in your face and in your life. You are terrified of him, and you love him. He is never remote. He risks intimacy. Tom endured barrages every day from every player in this drama because he backed us every night, in printing every verifiable element of every situation. He would not pull a single editorial punch in cajoling a community to face its darkest angels and be better. Managers control, leaders build and accomplish.
For a manager, you obey. For a leader, you would commit a felony.
Boston just became a majority minority city. It's a better place today. And Tom helped build the Globe as well as the town by insisting that each face itself. But a tale of great leadership can't provide a formula. For this, as John Kennedy said of courage, each editor must look into his own soul.
This was a "leadership moment" presented at the ASNE Convention April 3, 2001, at the J.W. Marriott Hotel in Washington, D.C.