'Leadership is not professional. It's personal. A great editor is in your face and in your life. You are terrified of him, and you love him.'
-- Tom Oliphant on Tom Winship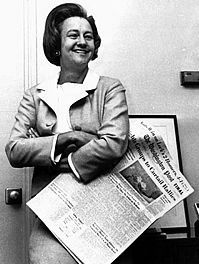 By Scott B. Anderson Medill School, Northwestern University
At its annual convention in April of 2001, the American Society of Newspaper Editors paid tribute to some of its greatest modern leaders, honoring them with short "Leadership Moments" sprinkled for inspiration throughout the three-day program.
Courage was a universal theme of the testimonials, from Katharine Graham's jaw-tightened determination to rise above a crippling union strike, to Punch Sulzberger's boldly historic decision to publish the Pentagon Papers and Bob Maynard's passionate resolve to use diversity to save a deeply troubled newspaper.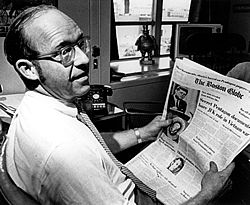 Courage, too, powered the many editors who lead their newsrooms and communities during the Civil Rights turbulence in the 1960s. Editors such as Ira Harkey, Jr. who, Gene Roberts recalled, "became a pariah in his town" by supporting desegration at the University of Mississippi. "A bullet pierced the door of his newspaper; a shotgun blasted out a window of his home; a cross was burned on his lawn, but Harkey said in an editorial, 'Ah Autumn. Falling leaves, the smell of burning crosses.' "
Another courageous civil rights editor honored was Eugene Patterson, whom Roy Peter Clark noted in his obituary on Jan. 13, 2013 wrote the remarkable column "A Flower for the Graves" as he sat crying, his daughter nearby, just hours after four your girls were murdered in a church bombing in Birmingham. "Only we can trace the truth, Southerner — you and I. We broke those children's bodies," he wrote in his Atlanta Constitution.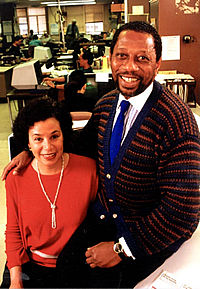 Great editors. Great leaders. Courageous men and women who, as John Carroll said about Creed Black, understood that "people don't buy newspapers because the newspaper coddles them or because it seeks their permission before it runs a story, or because it panders to their prejudices. They buy it because it tells them important things without flinching, or shading the truth."
We are proud to present these written and audio transcripts of the 2001 Leadership Moments in honor of some of our craft's and nation's greatest leaders -- women and men who willingly and bravely faced personal injury, financial ruin, prison and being shunned in their communities because they believed so strongly in the right and the might of their journalism and decisions.
To listen to the remarks about each leader -- and read a transcript -- please choose an editor in the left column. First up is Tom Winship of the Boston Globe. Or you may listen to each of the testimonials below.